System Flexibility
FLEXIBILITY OF THE HYDRAULIC SYSTEM ON DIFFERENT ENVIRONMENTAL CONDITIONS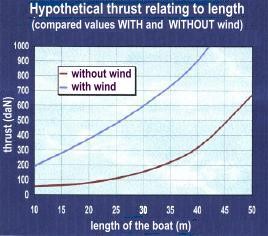 The great advantage of the hydraulic system is its flexibility: even when already installed, that it is at "placed tunnel", it is always possible to intervene on some parameters to change the effective operating performances. (The parameters that could be better changed are the one related to the pump operating conditions).
This factor is highly important because it is impossible predetermine precisely the ideal thrust of each kind of yachts and each operating conditions as shown in the chart.
The example shows two typical operating conditions influenced by the most significant and frequent environmental condition: the wind. These curves show the value of the thrust considering the length of the yacht with zero wind and with 20 knots wind.
Attention! The calculations are referred to an hypothetical yacht only to underline the wind influence on the rising out surface. This surface, the weight and all the other dimensional parameters have been taken into consideration compared to the length, but with arbitrary proportions.
SOURCES OF ENERGY ON BOAT
The strong market demand has recently pushed us to develop and offer different solution to the standard hydraulic configurations.
The most frequent requests, especially for little pleasure crafts are to operate the screw propeller for manoeuvring with engines of different nature: first of all with electrical engines fed by battery.
HYSY has underlined that, a part from this operation, many other solutions which can better exploit the energy sources available on board, have to be taken into consideration.

Figure shows the various ways to transfer to the propeller the energy supplied by the possible sources.